Sindo Ferry – Logo Design / Corporate Identity Logo Design
(You can see them @ Harbour Front Centre & Tanah Merah ferry terminal)
http://www.sindoferry.com.sg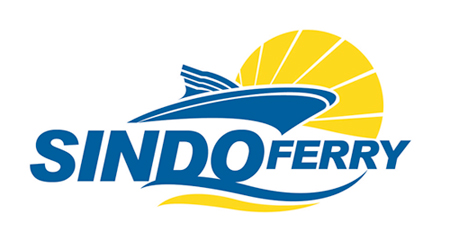 As one of the Top Logo Designer in Singapore, we practice three approaches for developing, redesigning as well as revamping a logo project.
First, is designing the logo based on our in-house logo interview form. It involves characteristic matching, personality, colours preference, etc. These give us an insightful perspective of what you desire;
Second off, the prospects of our proposed design alongside with our in-house perspective. This gives an option of leaping out of the box;
The third proposal is a concoction of the first and the second design. Be it fusion, modernism or contemporary, we craft it so unique that it creates a 'Wow' factor!
Contact us for our Logo Design Packages @ 6282 5526!
A logo is not brand identity
They complement each other. A logo is the visual symbol of your brand. Whenever we talk about a particular brand, the logo surface into our mind. This is how a logo's visual characteristics function. An outstanding logo gives a brand a unique visual representation; likewise, a successful brand promotes its logo connection.
Contact our Logo Designers for our Logo Design Packages @ 6282 5526!
Change or redesign your logo can be the most intimidating path you can choose, but for survival in today's ever-changing world, it is also extremely vital. It is essential for a sustainable future. The well-being and continual growth of your brand identity very much depends on this evolution. As time changes, consumers' behavior, competition and trends evolved. Many brands embraced change so that they can retarget new clients and raise awareness. It means we are now taking the MRT rather than travelling on a trishaw ride.
Contact us  for our Logo Design Packages @ 6282 5526!
Revamp or Redefine your Corporate Identity / Logo can be empowering. By doing things differently in a more inspirational way, by putting the right context, we can swiftly boost a business to the next level. Change is perhaps the single most important motivational aspect of employees, management, and its stakeholders.
Contact our Logo Designers for our Logo Design Packages @ 6282 5526!
Redefining a logo can be a risky assignment! It means if we understand what our client wants. An excellent and well-designed logo can put a smile on a client's face almost instantly, but of course, unless you come out with the right rationale behind the symbol.